October 27th, 2017
MAS was recently selected by the City of Newark, Delaware to supply two highway deicing sprayers. The city will use the equipment to help keep the roads in Newark safer for drivers during inclement winter weather.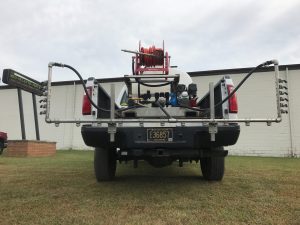 These deicing units are easy to operate, load, and maintain, and they provide consistent placement of deicing liquid, spraying evenly across the road. Each one offers adjustable boom height with an all stainless steel boom which covers the center and two outside lanes. Operators control the individual boom sections from within the cab.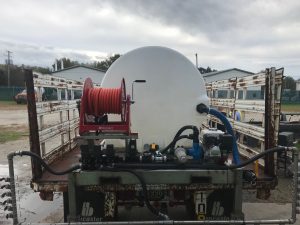 The MAS deicing sprayer features an oval poly tank (50 to 3135 gallons) and a Hypro centrifugal pump with a Honda gas engine or hydraulic drive. The Micro-Trak® RoadMaster™ control system ensures precise application rates. It automatically maintains the set rate as speeds and boom sections change. Rates can be displayed in either gallons per thousand square feet or gallons per lane mile. This equipment loads easily. Mild steel powder coated skid or stainless steel skids are available.
Commenting on the deicing sprayers, Mid-Atlantic Services General Manager John Haase said, "This equipment will be a huge help to the City of Newark as they work to keep the streets safer for drivers this winter. In addition, it is ideal for small to medium contractors because they can make use of trucks they already own to extend their work season into winter months. Deicing sprayers can be used for large parking lots, roads, and even dust and weed control throughout the year."